Dakota Valves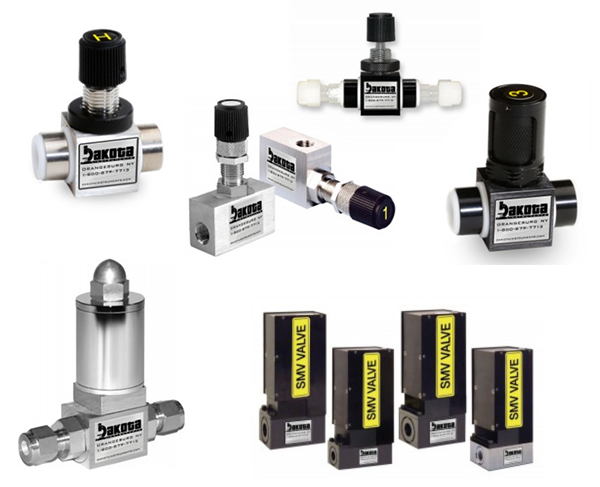 Dakota's 2-way Needle Valves, designed and constructed of different materials, accommodate a wide range of laboratory, process control, and OEM applications. These valves are excellent choices for precision low flow metering of gases and liquids. The product line consists of manually-operated and power-operated units.
Manually- operated needle valves are available in brass, stainless steel or PTFE for fluid- contacting versions in either straight line (T) or 90 degree (L) patterns.
Based on the fluid being regulated, select:
Brass for mild media and marine applications
Stainless steel for corrosives
PTFE for highly corrosive or ultra-pure media
Valve types include:
Economical CV™ Utility Valves
MFV Valves with "non-rising" stems ensure high precision, low hysteresis, and greatly enhanced resolution at a higher cost Power-operated needle valves include proportionating electromagnetic or stepping motor activated models:
PSV Solenoid Valves regulate fluid flow proportionately by increasing or decreasing input power to the coil. Optional Pulse Width Modulation facilitates flow control electronically. Valves are individually tested for 1 x 10⁻⁹ sccs He leak integrity
SMV Stepping Motor Valves offer high resolution of 0.00025"/step linear modulation for liquids or gases. Fluid- contacting materials are aluminum or a combination of PTFE sleeve and 316 stainless steel. SMV valves are intended for continuous, low differential pressure operations with no overheating. (100% Duty Cycle). Valves stay in position when de-energized.